Eye of a Rook
Josephine Taylor's novel Eye of a Rook was published by Fremantle Press in 2021. Josephine was shortlisted for the 2021 WA Premier's Book Awards in the Emerging Writer Category Prize for this debut novel, a work of literary historical fiction. In writing Eye of a Rook, Josephine was mentored by Susan Midalia. Book cover design is from Nada Backovic.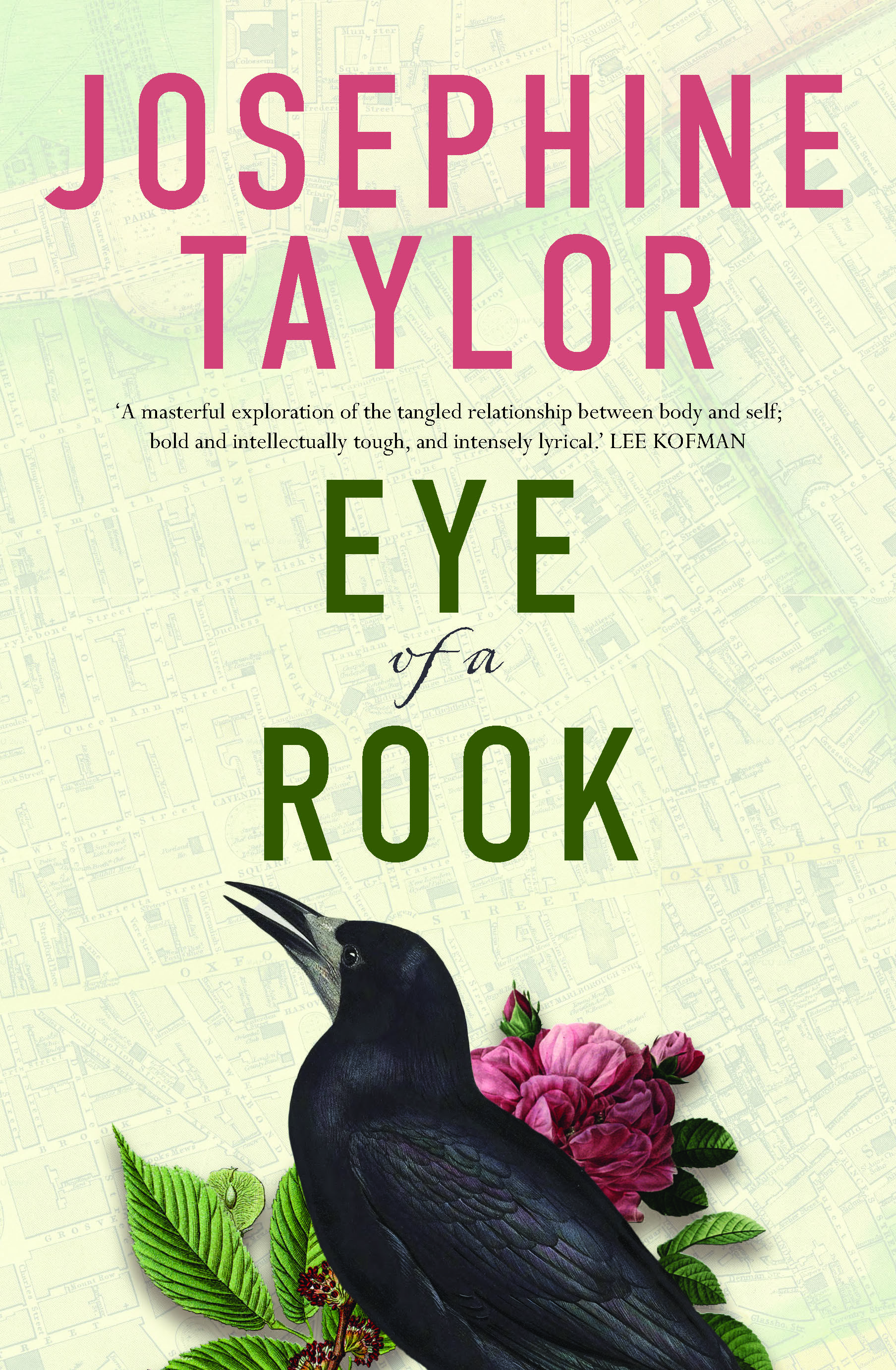 An 'unflinching representation of women's bodies, women's voices, and specifically women's pain, in a novel that is compelling, well-paced, and engaging from start to finish'.
DEBRA ADELAIDE, Australian Book Review
'A masterful exploration of the tangled relationship between body and self; bold and intellectually tough, and intensely lyrical.'
LEE KOFMAN
'Eye of a Rook is raw and intelligent, a searing depiction of the secret journey of female bodies.'
DONNA MAZZA
'Eye of a Rook centres the voices of women in extreme pain in a compelling, intelligent, lyrical and distinctly feminist narrative.'
RASHIDA MURPHY, Writing WA
"Now, Mr Rochdale." The surgeon leans back in his leather chair. "Before I give you my diagnosis, I require some facts from you about your wife. Is she restless—perhaps, excitable? Or is she of a melancholic disposition? Even … shall we say … withdrawn from you?"

In Victorian London, Arthur Rochdale's wife Emily is struck down by a pain for which she can find no words. In desperation, Arthur seeks the aid of Isaac Baker Brown and contemplates the surgeon's terrifying treatment for 'hysterical' women at his London Surgical Home.

Almost 150 years later, writer and academic Alice Tennant explores the history of hysteria to make sense of her own mystifying and private pain. Although she has direct access to a medical profession that should be able to help her, it seems that little has changed since 1866.

Circling ever closer to Arthur and Emily's story, Alice begins to question her own life and marriage. With understanding comes the discovery of the possibilities of creativity – and a newfound knowledge of self that will change the course of Alice's life.
'It would be a mistake to pigeonhole Eye of a Rook as a novel exclusively "about" illness or chronic pain – it is also deeply interested in themes such as female sexuality, relationships and broader attitudes towards women's bodies … Taylor has given voice to both her characters and the under-represented community to which they belong with sensitivity, intelligence and insight.' GEMMA NISBET, The West Australian
'Courageous and enthralling … this compassionate, beautifully written book explores important questions about the forces that make us who we are and who we might wish to become.' SUSAN MIDALIA
Eye of a Rook is available at all booksellers in Australia and New Zealand, or direct from the Fremantle Press website. It can be ordered through bookstores in North America and the United Kingdom and through Amazon. The eBook version is also readily available.
---
Two extracts from Eye of a Rook follow. See the bottom of the page for a listing of the primary texts used in the research and writing of the novel.
London, 1866

Emily makes herself seemly.

Arthur imagines it thus, siting in the adjoining room. But the particularities of her actions are obscure to him. Was his wife made to remove her crinoline for the examination? Her chemise? Is anyone there now to help her robe—to pull the laces of her stays tight, sculpting that biddable waist? He has not been privy to these intimate moments for some time, but still he remembers, and hopes.

Arthur pictures Emily. The milky skin where the sun has not touched; the smooth slope of her buttocks, which has been solely his province. He sees the grey-blue of her eyes. Strokes the side of her face, with its sprinkle of light freckles. Scoops up her hair, red-gold and silky in his hands.

He wishes he could be with her so she is not left undone, shamed by all she has endured.

Instead, here he is, listening to the surgeon scratching notes at his stately desk, trying to fool himself that he is in a drawing room—because, look at the ornaments cluttering the mantel; and there, the heavy sofas illuminated in the light sidling past velvet curtains. But the certificates above an elaborately carved cabinet remind him otherwise. Arthur peers through the hazy air. President of the Medical Society of London 1865, announces one. Another gilt-edged document proclaims an opening: The London Surgical Home for the Reception of Gentlewomen and Females of Respectability suffering from Curable Surgical Diseases. He can just make out the year: 1858. How many gentlewomen have been brought here in the intervening years? Have their husbands or their fathers sat in this same overstuffed chair? Were their thoughts as his: addled with concern and suspicion; terrified of consequences this man might not disclose? Though spare of figure, Mr Isaac Baker Brown has the look of a large horse harnessed to a plough. Is he as solid and unstoppable?

"Now, Mr Rochdale." The surgeon leans back in his leather chair. "Before I give you my diagnosis, I require some facts from you about your wife. Is she restless—perhaps, excitable? Or is she of a melancholic disposition? Even … shall we say … withdrawn from you?"

What can he say, when the questions are so weighted with authority?

"She manifests these qualities in turn." It seems disloyal to talk about Emily in this way to a stranger, but even as he speaks, Arthur feels the burden of his wife's peculiar malady shifting. "Sometimes she has such nervous excitability she is unable to sleep and paces restlessly by day. But then she is prostrated by nervous exhaustion and weeps and sighs ceaselessly."

The steel nib of Baker Brown's pen scrapes at paper. Arthur imagines other instruments this hand must hold: a caustic compound, surgical scissors—

His mind shies away.
Perth, 2008

Alice pulled the curtain across, took off her skirt and undies and climbed onto the bench, pulling the crisp sheet over her torso. Let her knees relax outwards and tried to forget the other people with whom she'd opened herself this way – the cold metal implements and even colder fingertips. She breathed deeply into her abdomen, into her pelvis, trying to send kind thoughts there, but her mind skittered and her heart still drummed its warning.
She heard the snick of the door as Sasha returned, the whoosh of the billowing curtain.
'Okay, so I'm going to begin with seeing how the vestibule is doing.'
Alice put her head back on the pillow, closed her eyes and waited for the first sensation: the cotton bud like a pin.
'How's that?'
'A three.' Not too bad. 'Five … Four … Five …' Alice tried to place each discrete sensation on the map in her mind. 'Seven – is that nearer the urethra?'
'Yes, one of the glands close to the urethral opening. What about this?'
'Seven again, I think.'
The needling slipped down the pain scale again.
'So, a little better overall,' Sasha commented.
'Still worse at the front than the back.'
'Yes, the pain's always been more focused there for you, hasn't it?' Alice heard the sound of the bin closing, and water running down the drain. 'Non-latex gloves, Alice. And warm water to help.' Sasha always remembered this too: how reactive her skin had proven, even though it was just latex, just gel. With a stab of grief, she recalled sex with Duncan in the early days: ribbed condoms – for her pleasure, announced the box – and raiding the fridge, foods outside and in. The laughing, sweaty joy. The utter abandonment to pleasure. Sasha's hand brought her back, lodging her in her body with stretching and pulling, then pressure.
'Okay, so I'm inside the vagina now and I'm palpating the muscles around the vaginal wall. Can you feel that?'
'It's sore, but it feels okay. It's like it needs to be stretched.'
'Good. Yes, there's some tightness, but not as much as you had, perhaps.'
The pressure was reaching into her body now, and swivelling.
'Is that the obturator internus?'
'Yes, that's right,' said Sasha.
In her mind's eye, Alice recreated the tracings she'd made from the anatomy atlas. Muscles and ligaments and tendons; busily interweaving nerves; and blood vessels, blues and reds tidy and contained. The journeys taken by all these unfathomable structures around and between jutting bones, this intricate web that somehow held the pelvis together in a beauty of form and function. And the rhythm of the words she'd copied from the atlas, whispering them to herself like poetry: ischiococcygeus, puborectalis, ischial tuberosity …
Was Sasha visualising all this as she pressed and massaged? Making sense of threads, knots and bumps by placing them in the anatomical bowl she carried in her mind? Alice tried to hold it, too, that picture of her pelvis, rotate it into depth and life; strained to marry what she could now feel with what she'd seen: neat, discrete anatomical parts. But it was as if the two things were entirely different. Completely unconnected. Two bodies, she reminded herself. And two senses: sight and an unfamiliar kind of … It was hard to know what to call the other. Inner sensation? Kinaesthesia? In any case, less precise than the kind of touch she was used to and almost as if she were underwater, or immersed in some kind of viscous flux where she was the feeler and the felt, the prober and the probed, and inside, the spongy muscular warm wet around her – gooey, mucousy, ropey, gluggy and straining aching needling and everything muddled and messy in a passageway, a cone, a cylinder, a vortex … nerves wetly sparking abody a mind a brain? Something is wrong, and swimming through it, the wrongness, dissolving in it or dissolved by it, boundaries gone and just the feeling there. Right there.
---
Many texts were used in researching and writing Eye of a Rook. Those most relied upon are listed here.
Historical
Isabella Beeton, Mrs Beeton's Book of Household Management (1861)
C Willett Cunnington and Phillis Cunnington, Handbook of English Costume in the Nineteenth Century and The History of Underclothes
Charles Dickens, Sketches by Boz (1836)
Charles Dickens Junior, Dickens's Dictionary of London
Edward Meyrick Goulburn, The Book of Rugby School (1856)
Thomas Hughes Tom Brown's Schooldays (1857)
Lee Jackson, Dirty Old London
Pat Jalland, Women, Marriage and Politics 1860–1914
Sally Mitchell, Daily Life in Victorian England and Victorian Britain
George Frederick Pardon, The Popular Guide to London and Its Suburbs (1862)

Edward Weller,

Map of London 1868
Hysteria and Related Subjects
Hélène Cixous, Luce Irigaray, Julia Kristeva, and female body scholarship: multiple texts.

Sigmund Freud, The Standard Edition of the Complete Psychological Works
Sander L Gilman et.al., Hysteria Beyond Freud
Christopher G Goetz, Michel Bonduelle and Toby Gelfand, Charcot
Mark S Micale, Approaching Hysteria
Silas Weir Mitchell, Doctor and Patient (1888) and Fat and Blood: An Essay on the Treatment of Certain Forms of Neurasthenia and Hysteria (1884)
Ornella Moscucci, The Science of Woman
Andrew Scull, The Insanity of Place
Elaine Showalter, The Female Malady
Edward Tilt, A Handbook of Uterine Therapeutics and of Diseases of Women (1878)
Ilza Veith, Hysteria
Quotations in the novel were drawn from the following publications:
Baker Brown, Isaac. On the Curability of Certain Forms of Insanity, Epilepsy, Catalepsy, and Hysteria in Females. London: Robert Hardwicke, 1866.
Briffault, Robert. The Mothers. Abridged Edition. London: George Allen & Unwin, 1959.
British Medical Journal: Issues for 28 April 1866, 24 November 1866, 15 December 1866, 29 December 1866, 12 January 1867, 6 April 1867. Charcot, Jean-Martin. Lectures on the Diseases of the Nervous System. Translator G. Sigerson. London: The New Sydenham Society, 1877. Charcot, Jean-Martin. Clinical Lectures on Diseases of the Nervous System: Volume 3. Translator T. Savill. London: The New Sydenham Society, 1889.
Dodson, Melvin G., and Eduard G. Friedrich. 'Psychosomatic Vulvovaginitis'. Obstetrics and Gynecology 51 Supplement (1978): 23–25.
Frazer, James George. 'Part I: The Magic Art and the Evolution of Kings'. In The Golden Bough: A Study in Magic and Religion. Third Edition, Volume 1. London: Macmillan & Co., 1911.
Harding, M. Esther. Woman's Mysteries: Ancient and Modern. New York: Harper & Row, 1971.
King, Leonard W. Enuma Elish: The Seven Tablets of Creation; The Babylonian and Assyrian Legends Concerning the Creation of the World and of Mankind. Volume 2. New York: Cosimo Classics, 1902. (Note: some lines from the translation of the prayer to Ishtar have been omitted.)
Moore, Bruce (Ed.). Australian Concise Oxford Dictionary. Fifth Edition. Australia & New Zealand: Oxford University Press, 2009.
Sargeant, Hilary A., and Frances V. O'Callaghan. 'The Impact of Chronic Vulval Pain on Quality of Life and Psychosocial Well-being'. Australian and New Zealand Journal of Obstetrics and Gynaecology 47.3 (2007): 235–239. https://doi.org/10.1111/j.1479-828X.2007.00725.x.
Sims, J. Marion. 'On Vaginismus'. Transactions of the Obstetrical Society of London 3 (1861): 356–367.
Plutarch. Plutarch's Lives: Translated from the Greek, by Several Hands. Volume 1. London: Jacob Tonson, 1716.
Thomas, T. Gaillard. A Practical Treatise on the Diseases of Women. Fifth Edition. London: Henry Kimpton, 1880.