#FridayCookBook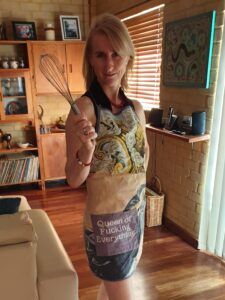 Friday sees Josephine don her Queen of F—ing Everything apron and de-stress with some serious book-bake match-ups.
Here are some delectable examples.
See @jtaylorauthor and #FridayCookBook on Instagram for more.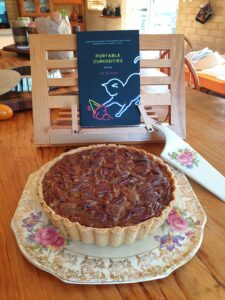 Double Pecan Pie and Portable Curiosities, by Julie Koh.
Delightfully nutty, with a subversive, treacle-dark bite.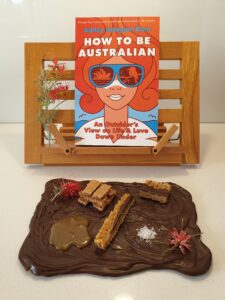 Deconstructed Caramel Slice and How to Be Australian, by Ashley Kalagian Blunt.
Internal turbulence scatters elements, providing a fresh perspective on a longstanding favourite and creating an imaginative whole.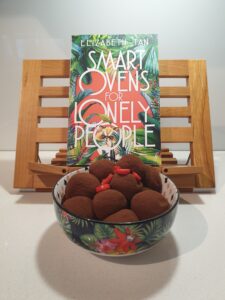 Chilli-Choc Rum Balls and Smart Ovens for Lonely People, by Elizabeth Tan.
It's a rum business, consuming these small parcels: they intoxicate and electrify; one must pause, consider. Digest.
Chocolate Salted Caramel Tart, and The Salt Madonna, by Catherine Noske.
A smooth-rough enigma, 'truth' is multi-layered in this rich and salty delight.
Roast Coconut and Pandan Cake with Lime Curd, and The Coconut Children, by Vivian Pham.
Vivid colour and vibrancy are counterbalanced by a dense and satisfyingly realised cultural history.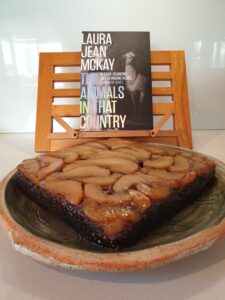 Upside-Down Pear Gingerbread Cake and The Animals in That Country, by Laura Jean McKay.
The world is turned
upside down, the
order of things
changed. (It must
follow the crumbs.)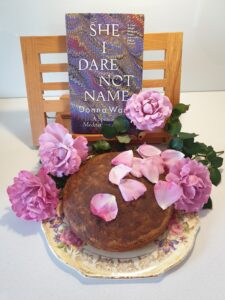 Cinnamon Tea Cake and She I Dare Not Name, by Donna Ward.
In solitude, elements commune and birth solace; intimacy is tea for one.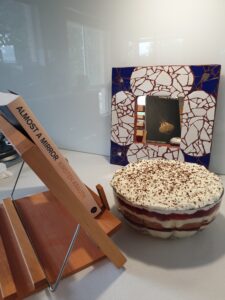 Retro Trifle and Almost a Mirror, by Kirsten Krauth.
Featuring kaleidoscopic revelations and reverberating notes, this nostalgic feast is mirey when dished up, yet resolves with aplomb.
Battenberg Cake and The Spill, by Imbi Neeme.
What seems whole splinters. It takes time and care to place the scattered pieces; to puzzle the fragments together.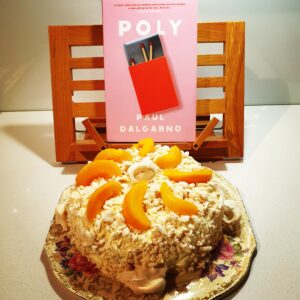 Uruguayan Chaja and Poly, by Paul Dalgarno.
All appears peachy, but beneath the froth and bubble there is crunch; seduction is sweetly chaotic.